Advanced Material Processing Solutions
Product Announcement from Harper International Corporation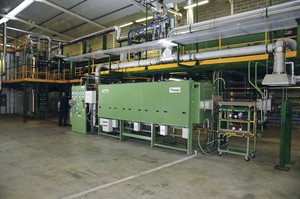 At Harper International, we provide innovative process lines for a number of material markets, such as metal oxides, carbon fiber, powders, graphene and more. As a leader in thermal processing solutions including furnaces and ovens, we are able to offer the complete line, including material handling, gas abatement, pre and post treatment, and of course, thermal units.
We take on a comprehensive view of issues pertaining to material transport that extend beyond individual unit operations. Our expertise designing material handling, raw material through product packaging, ensures best functionality, maximizes throughput, minimizes scrap and maintains consistent product quality.
As the standard in thermal processing technology for carbon fiber since the industry's inception, Harper offers a range of equipment in thermal regimes beyond what others can, including furnaces and oxidation ovens in lab scale, pilot scale and full production scale sizes. We have the building blocks to design solutions for the most challenging thermal processes, using our years of experience and practice to devising first-of-a-kind, custom systems for world class material manufacturers.
Our fully integrated control system designs not only allow for function of the system under normal operation, but also focus on enhancements of plant safety and protective measures in transitional states. Having a cooperative plant functioning on the same control platform rather than individual and isolated control platforms will give you peace of mind and added safety benefits.
Contact Harper today to learn about our variety of thermal processing solutions.
---