Testing & Piloting Systems
Product Announcement from Harper International Corporation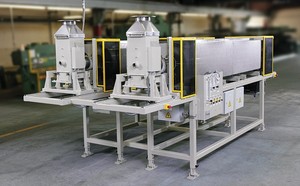 Let Harper help bring your next material innovation from idea to reality. As a world leader in complete thermal process system for advanced materials such as fibers, powders, metal oxides, technical ceramics and more, we offer research scale to full production line operations. As a trusted expert in thermal processing, hundreds of companies have used our Technology Research Center for process development and process optimization as they work toward commercial scale-up or with systems requiring unique process specifications.
Optimization of process parameters is critical prior to investment in thermal processing equipment to ensure capacity and quality requirements are achieved. Customers can utilize Harper's numerous on-site thermal systems to gather data and fine tune their processes, with a focus on varying production rates, temperature regimes, processing times, atmosphere compositions, and flow rates, resulting in savings on the investment ultimately required for new thermal processing systems.
Harper has a wide variety of thermal systems on site for your use in testing and analysis that can handle a vaierty of process conditions, including:
· Batch or continuous furnaces
· Sizes from small kilns to large furnaces, with 3 temperature zones
· Furnace conditions from atmospheric to nitrogen or specialty gases, with temperatures up to 2000°C
Harper also provides a variety of analytical services to help you monitor and better optimize your process. These include on-site facilities such as gas analysis (critical to ensuring compliance with environmental regulations) as well as off-site facilities such as electron microscopy, thermal and elemental analysis
Additionally, Harper offers its complete carbon fiber pilot process line in Lavradio, Portugal as an open reference and capabilities demonstration to select Harper clients. This facility includes Harper's proprietary multi-flow oxidation ovens, advanced LT and HT slot furnaces rated for 800°C and 1800°C respectively, surface treatment and waste gas abatement systems, and winders.
Here, Harper clients can utilize the facility for validation of their carbon fiber process, confirmation of material quantities to enable downstream research, assessment of feasibility of continuous operations, and validation of design parameters for further scale up.
To learn more about how Harper can help, contact us today.
---