Reed Switches- High Reliability Free Samples
Product Announcement from Hasco Relays and Electronics International Corp.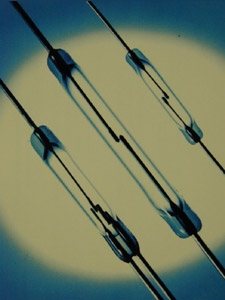 Hasco Relays - Reed switches are long life and high reliability. Applications include liquid level sensors, proximity sensors, automotive, security, or for basic on off needs where a regular mechanical switch will not work. Reed switches have an advantage being sealed in glass in an inert gas. This means things like contact resistance and outside environmental issues do not come into play. Long life and reliability are key factors in using reed switches where ratings of 250 million cycles can be easily achieved. Glass length ranges from 8mm to 14mm X and has 1.8 to 2.2mm diameter. All reeds can be customized to fit P.C. boards for push in or SMT applications. The switching current ranges from .3A to 3 amp inrush dependent on use needed.
---