Inert Gas Booster Systems
Product Announcement from Haskel International LLC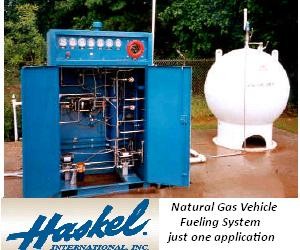 Haskel's ability to incorporate and interface electronic controls into systems provides precise compression and control of gases. Applications for these systems range from A/C system testing to aircraft jacking, blow molding to breather systems, CFC recovery to cryostat testing.... and many more.
CHARGING SYSTEMS
Charging systems provide a fast, efficient and economicalmethod of charging, or "topping up" gas pressures. Charging units ensure that the optimum use is made of commercially bottled gases down to as low as 150 psi or vaporized liquid (cryogenic) supplies while producing pressures as high as 39,000 psi depending on gas type. Units are standard or custom-built in a variety of configurations
Users of gases above normal cylinder pressures, or those requiring continuous high pressure and wanting to utilize most of the cylinder supply, have a requirement for a Booster. Gas booster compressors are suitable for transfer and pressurization of:
Nitrogen (N2) - Neon (Ne) - Hydrogen (H2)** - Helium (He) - Argon (Ar) Methane (CH4)** - Breathing Air (N202) - Sulphur Hexafluoride (SF6) Ethylene (C2H4)** - Nitrous Oxide (N20) - Oxygen (O2)* Deuterium (D2)**Carbon Dioxide (CO2) - Carbon Monoxide (C)** - Natural Gas (CH4)**(often contains high proportion of CO2 & N2)
To learn more e mail your inquiries or visit our website.

---