Product Announcement from Haskel International, Inc.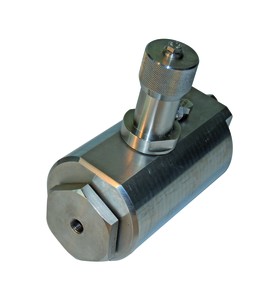 The new compact IRCD is a unique system for the multipoint injection of chemicals into oil and gas production systems. One of the major advantages of the Haskel IRCD system is that it only needs one operative air or electric-driven pump per chemical, no matter how many injection points the system has. significant savings are achieved by using the IRCD flow distribution system from Haskel International in place of multiple metering pumps for chemical dosing.
The revolutionary design can handle flow rates from as low as 0.5 L/hr up to 320 L/hr (85 USGPH) with injection pressures up to 15,000psig and flow turndown of up to 50:1 (flows up to 6,000 L/hr can be achieved with larger models)
The IRCD solves the immediate need for savings on space weight and costs through lower installation and maintenance costs and the ease of adding units to an existing system. It can be supplied individually or in a panel configuration. It contains no moving parts and features ceramic contact parts that last longer and need fewer spares. 316 Stainless steel body and perfluroelastomer O-rings minimize environment al and chemical attack.
Compared to similar units in the market, Haskel Compact IRCD is a more reliable unit that more closely meets the markets demands, providing fewer blockages thanks to new metering valve design, greater control at the point of injection, and smoother flow for better chemical performance . In addition, by using a biased dome regulator to maintain a constant differential pressure across the flow control valve, a constant flow is provided throughout the system, if the flow control valve isn't changed. This ensures that the fluid flow throughout the Haskel IRCD will only change if the flow control valve is adjusted.
Learn more about the new IRCD by visiting our website via the links on the left or see the full range of Haskel's Injection Rate Control Devices HERE
You have successfully added from to your part list.
---