Product Announcement from Haws Corporation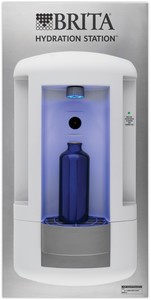 Providing great-tasting water away from home
The Brita® Hydration Station™ offers a convenient, touch-free alternative to bottled water, filling up reusable containers with healthier*, refreshing water. The unit conveniently mounts on to most wall surfaces and dispenses great-tasting, filtered water from standard tap lines.
Great-tasting Brita® filtered water now available away from home.
Brita® is the world's #1 brand of household water filtration, transforming ordinary tap water into healthier*, great-tasting water. Brita® filtered water is now available away from home with the Brita® Hydration Station™. The Brita® Hydration Station™ features an advanced filtration system using a carbon-based filter that reduces lead, chlorine taste and odor, and removes 99.99% of cysts from municipal tap water.*
* Certified to reduce lead and cysts. Substances reduced may not be in all users' water.
Green & Sustainable.
In 2008, over 39 billion single-use water bottles were consumed in the United States. That number is double the amount used only five years earlier. Of those 39 billion bottles, reports show that only 32% were actually recycled, leaving 26 billion water bottles that could end up in landfills.1
Create a sustainable environment by using the Brita® Hydration Station™. By reducing the need for bottled water, the unit helps reduce your carbon footprint and encourage sustainability. Plus, the unit may contribute points (ID 1) towards LEED-qualifying for USGBC projects.
1 according to BMG: Beverage Packaging in the US, 2009 and IBWA, May 2010
Saves you money.
Using the Brita® Hydration Station™ can dramatically save you money, compared to the cost of bottled water or awkward, 5-gallon office jugs.
On average, a single bottle of water costs between 500 and 1,000 times municipal tap water.1
Make the switch to the Brita® Hydration Station™ and fill-up a standard reusable bottle for less than one cent. On average, the unit pays for itself in about 10 months for organizations with 75 people or more, compared to the cost of 5-gallon office jugs and bottled water.*
See how much you can save switching from bottled water or 5-gallon jugs using our interactive savings app.
1 Gleick, Peter. "The Myth and Reality of Bottled Water." The World's Water (2004-2005): 22-23.
* Price of bottled water based upon average cost from commercially available data on 8/1/2010. Brita® Hydration Station™ pricing based upon normal filter change-over and standard municipal tap water rates. Based on Nevada's Washoe County tap water rates.
You have successfully added from to your part list.
---