Product Announcement from Haydon Kerk Motion Solutions, Inc.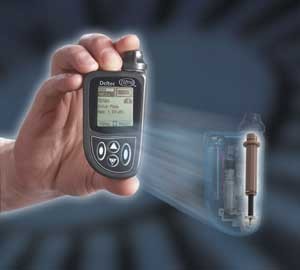 DELTEC COZMO® PUMP HELPS PEOPLE WITH DIABETES MAINTAIN ACTIVE LIFESTYLE
Haydon Kerk Motion Solutions, Inc., a premier manufacturer of linear motion products, aids award-winning design
By any measure, diabetes is a huge health problem. Not only is it estimated that approximately 16 million people in the U.S. have diabetes, it is also a leading cause of associated medical conditions such as blindness, circulatory problems, and digestive disorders.
While there is currently no cure for diabetes, many cases can be effectively managed through the use of insulin injections. And while many people still inject their insulin manually, one of the most significant breakthroughs in diabetes treatment has been the invention of the insulin infusion pump, which is attached directly to the person's body and automatically injects insulin at scheduled, programmable intervals. The advantages of these pumps are tremendous: the burden of remembering one's injection times, as well as the need to ensure accurate dosages, is eliminated. Also, the pump's ability to provide smaller doses at greater frequency is much easier on the rest of the body.
Yet while performance of any insulin pump is clearly the primary concern, the importance of the size of the pump should not be understated.
"When we surveyed patients and endocrinologists, we found that size was a major issue with insulin infusion pumps," said Clint Vilks, Senior Program Manager at Deltec, part of the Smiths Medical family of companies and a world leader in the design, manufacture and distribution of medical devices, including a wide range of infusion therapy products. "People with diabetes are going to be wearing their pumps 365 days a year. If the pump is even the slightest bit too big, it can present a number of problems—from clothes not fitting over the pump properly to simple comfort issues. That's why everyone we talked to wanted something that would be effective, but also small and stylish—almost like it wasn't even there."
Deltec's response to this market need was the creation of an advanced insulin infusion pump known as the Deltec Cozmo® Pump. The Deltec Cozmo Pump is a lightweight, cell phone-size device worn by people with diabetes that delivers insulin at regularly scheduled intervals, day and night, through a short, flexible plastic tube inserted just under the skin. Operation is very simple, because the interface is similar to a cell phone keypad. The cartridge holds 300 units of insulin and uses one AAA battery.
Introduced less than a year ago, the new pump offers significant advantages over previously available insulin pumps, most notably its size, ease of use and flexible programming. The Deltec Cozmo Pump allows people with diabetes to personalize their treatment to meet their lifestyle demands.
Producing the Deltec Cozmo Pump presented some unique challenges, most notably the need to design and manufacture parts small enough to fit into the pump's sleek profile, yet capable of delivering big performance. To achieve this goal, Deltec enlisted the help of Kerk Motion Products, one of the world's largest exclusive manufacturers of non-ball lead screws and a vendor with which Deltec had previous experience.
"We had experience with Kerk from the work they did on one of our other medical devices, so we naturally went back to Kerk based on their previous performance," Vilks said.
Deltec turned to the Hollis, New Hampshire-based company to produce a part that would be critical in the Deltec Cozmo Pump's ultimate success: a lead screw and nut (what Deltec describes as a "drive rod") that would compress the syringe to inject the insulin. Essentially, Kerk helped Deltec replace the human element – the finger that would push down on the syringe's plunger – with a lead screw and nut. The lead screw pushes down on the drive rod, which is actually a complex machined plastic plunger. The nut incorporates threads working with the screw to set in motion the pump's inner lock mechanism, which uses a quarter-turn thread to engage the disposable insulin syringes. The entire mechanism is driven by a small motor, that rotates the lead screw that's positioned parallel to the motor.
It is a highly precise process in which the lead screw and nut play an integral role. Needless to say, the precision aspect is even more critical than it might be in other applications, given the medical ramifications of a faulty mechanism. If there is any unwanted or free flow, or if the overall fit of the plunger in the mechanism is loose, the insulin dose accuracy could be affected. What's more, the precision fit of the lead screw and nut not only ensures the proper performance of the pump, it creates sealing features that help maintain a strict separation between the medication and the pump parts – an absolute mandate in any medical device.
According to Tom Solon, Kerk Application/Sales Engineer, the delicate nature of the instrument created a significant manufacturing challenge.
"In high-volume applications such as this, we normally would create the plastic nut with a standard injection molding process," said Solon. "However, in this case, we could not use the typical method because it would create a 'parting line' that would interrupt the seal in the plunger. Instead, we employed a precision CNC screw machining process—a process that many other companies are not equipped to handle. The custom, high accuracy thread was developed specifically for this project."
The nut is made from Kerk's self lubricating acetal plastic; the screw incorporates Kerk's proprietary TFE coating, a special formulation that increases lubricity and typically extends the normal nut life by more than 300%.
Vilks also pointed to Kerk's ability to create parts that integrate easily with the components produced by other vendors on the project. "Based on our pump's innovative design, we required some unusual, high-precision mechanical properties," he said. "We provided Kerk with samples of the gear that would be used on the end of the screw, and they were able to machine their parts based on the gear design to ensure a perfect fit."
Vilks was quick to point out that despite Deltec's stringent requirements, Kerk was very aggressive in its exploration of design modifications and suggestions.
"Kerk listened to our requirements and took them seriously," Vilks said. "Yet where changes were required to accept the reality of manufacturing, they came up with some innovative suggestions that would accomplish our objective without sacrificing quality. They always presented viable options. Ultimately, there was a true exchange on both sides to achieve the goal rather than to chase some theoretical specifications. "It was a challenge that many other companies could not have met."
Solon concurs. "Deltec's willingness to consider our recommendations resulted in an elegant solution with outstanding performance. This situation really highlights the benefit of early manufacturing involvement. Great communication with Deltec ensured that allowances were made for subsequent requirements."
Deltec's satisfaction with Kerk's contribution is evident, not only in the actual performance of the pump but in the safety arena as well. "We were looking for a safety factor of five," said Vilks. "With Kerk's help we were able to achieve a factor of 10."
Not only was Deltec impressed with Kerk's help in the Deltec Cozmo Pump's construction, but independent sources have lauded the new pump's design as well. In fact, the Deltec Cozmo Pump was awarded a Medical Design Excellence Award.
Based on initial response, Deltec expects the Deltec Cozmo Pump to be a highly valuable addition to a company that has sold over 150,000 ambulatory infusion pumps worldwide. But this is not just about business. It is about bringing effective treatment to people with diabetes and allowing them to maintain their active lifestyles. Kerk's creative design approach and manufacturing expertise has helped Deltec achieve this goal by contributing to the production of an instrument that, while small in size, will have a huge impact.
About Haydon Kerk Motion Solutions, Inc.
Haydon Kerk Motion Solutions, Inc. is the joining of two world class brands in the field of linear motion; Haydon Switch and Instrument, Inc. and Kerk Motion Products, Inc. Together, the company now offers a broad range of precision linear motion products. Recognized as a leading manufacturer of stepper motor based linear actuators, rotary motors, lead screw assemblies, and linear rail and guide systems used in niche market applications, Haydon Kerk Motion Solutions, Inc. offers high performance with its range of reliable, precise designs. Haydon Kerk Motion Solutions, Inc. has developed industry-renowned brands built upon its technical innovation, versatility, customization, product durability, and dedicated customer service. For more information, please visit our website at http://www.HaydonKerk.com.
You have successfully added from to your part list.
---