Product Announcement from Haydon Kerk Motion Solutions, Inc.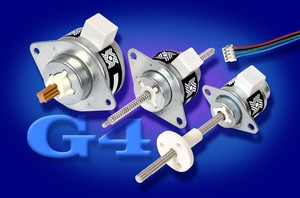 Waterbury, CT - Haydon Kerk Motion Solutions, Inc, a leading manufacturer of precision linear motion products, offers an entire line of high output can stack linear actuators. The Haydon™ line of high output can stack actuators include the 20mm, 25mm, and 35mm frame sizes. Compact, robust, and powerful, these linear actuators easily outperform all other offerings of similar size in the marketplace today.
The Haydon high output linear actuators were designed and built with performance and durability in mind. Technical enhancements include optimized stator tooth geometry, high energy neodymium magnets, custom engineered plastics, and larger ball bearings for greater rotor support for maintaining accuracy and repeatability over a long life.
The high output can stack line provides exceptionally high force-to-size ratios and is ideal for a variety of applications including precision medical equipment, scientific instrumentation, scanning devices, printing equipment, advanced optics, and other mechanisms requiring high force in a compact size.
The linear actuators are available in a variety of resolutions (linear travel per step). There are 3 configurations available offering a variety of stoke lengths including captive, non-captive, and external linear. For more information on the entire line of Haydon linear actuators, visit Haydon Kerk at www.HaydonKerk.com.
About Haydon Kerk Motion Solutions, Inc.
Haydon Kerk Motion Solutions, Inc. is the joining of two world class brands in the field of linear motion; Haydon Switch and Instrument, Inc. and Kerk Motion Products, Inc. Together, the company now offers a broad range of linear motion products. Recognized as a leading manufacturer of stepper motor based linear actuators, rotary motors, lead screw assemblies, and linear rail and guide systems used in niche market applications, Haydon Kerk Motion Solutions offers a wide range of high performance and precision products. Haydon Kerk Motion Solutions has developed industry-renowned brands built upon its technical innovation, versatility, customization, product durability, and dedicated customer service. For more information, please visit our website at http://www.HaydonKerk.com.
You have successfully added from to your part list.
---