Product Announcement from Haydon Kerk Motion Solutions, Inc.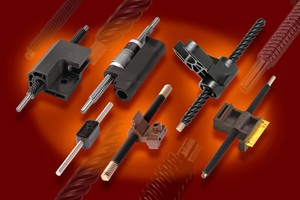 HAYDON KERK MOTION SOLUTIONS™ OFFERS KERK® BRAND CUSTOMIZED LEAD SCREWS AND NUTS TO FOR PRECISION MOTION CONTROL
Precision non-ball lead screws and custom nuts create exceptional value
Haydon Kerk Motion Solutions™, a premier manufacturer of linear motion products, offers precision acme lead screws and customized nut designs in motion control applications where ball screws may have been originally considered. Kerk® lead screws and custom nut designs create exceptional value for designers and end users in a variety of industries.
For vertical applications, Kerk lead screws can be designed to self-lock and prevent back driving, unlike traditional ball screws. Utilizing a sliding motion between the nut and the screw to convert rotary input to linear output motion, the Kerk non-ball lead screws offer accuracy comparable to ground ball screws. Kerk lead screws are manufactured with a choice of proprietary coatings, depending on the application requirements. Kerkote® and Black Ice™ dry lubrication coatings eliminate the need for external lubrication and maintenance. Haydon Kerk Motion Solutions can also add value to an application by designing and molding customized application-specific nut features. As with all Kerk brand anti-backlash nuts and freewheeling nuts, customized nuts can be molded using Kerkite® high performance polymers or various customer-specified specialty materials.
Manufactured from 303 stainless steel and produced with Haydon Kerk Motion Solutions' exclusive precision rolling process, Kerk lead screws are available in standard diameters from 1/8" (3.2mm) to 15/16" (23mm), with standard leads from .02" to 3" (.5mm to 76mm). Custom materials, sizes and leads are available upon request. For more information, please visit our website. To learn more about Kerk technology, click here.
About Haydon Kerk Motion Solutions™
Haydon Kerk Motion Solutions is the joining of two world class brands in the field of linear motion; Haydon™ and Kerk®. Together, the company now offers a broad range of precision linear motion products. Recognized as a leading manufacturer of stepper motor based linear actuators, rotary motors, lead screw assemblies, and linear rail and guide systems used in niche market applications, Haydon Kerk Motion Solutions offers high performance with its range of reliable, precise designs. Haydon Kerk Motion Solutions has developed industry-renowned brands built upon its technical innovation, versatility, customization, product durability, and dedicated customer service. For more information, please visit our website.
You have successfully added from to your part list.
---