Product Announcement from Haydon Kerk Motion Solutions, Inc.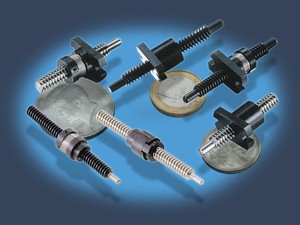 Mini Acme Lead Screw Assemblies engineered for demanding miniature applications
Waterbury, CT - Haydon Kerk Motion Solutions, a premier manufacturer of linear motion products, offers the Kerk® Mini Series Lead Screw Assemblies for demanding miniature applications, such as data storage drives, miniature pumps and dispensing systems, micro-actuators and laser/optical focusing mechanisms. Comprised of small diameter, precision rolled, lead screws and patented nuts, the Mini Series provides reliable precision motion control at a fraction of the cost of traditional miniature ball screws.
Engineered to withstand millions of inches of travel without requiring external lubrication, maintenance, or adjustment, the Kerk Mini Series exhibits outstanding performance, allowing new product designs to be manufactured at previously unattainable sizes and costs.
The Kerk Mini Series is offered in anti-backlash and general-purpose lead screw assemblies, using the Kerk patented NTB, NTG and BFW nut designs. The lead screws are made from 303 stainless steel, and are available with the Kerk proprietary, long-life Kerkote® or Black Ice™ TFE coating. Designed to run smoothly and efficiently on Kerk precision rolled lead screws, the maintenance-free nuts are manufactured with self-lubricating polymers. The Mini Series is available in standard diameters as small as .125" (3mm). Smaller custom diameter lead screw assemblies are also available. Please contact Haydon Kerk Motion Solutions for more information.
About Haydon Kerk Motion Solutions, Inc.
Haydon Kerk Motion Solutions, Inc. is the joining of two world class brands in the field of linear motion; Haydon Switch and Instrument, Inc. and Kerk Motion Products, Inc. Together, the company now offers a broad range of linear motion products. Recognized as a leading manufacturer of stepper motor based linear actuators, rotary motors, lead screw assemblies, and linear rail and guide systems used in niche market applications, Haydon Kerk Motion Solutions offers a wide range of high performance and precision products. Haydon Kerk Motion Solutions has developed industry-renowned brands built upon its technical innovation, versatility, customization, product durability, and dedicated customer service. For more information, please visit our website.
You have successfully added from to your part list.
---