Spring Loaded Y-Check Valves
Product Announcement from Hayward Flow Control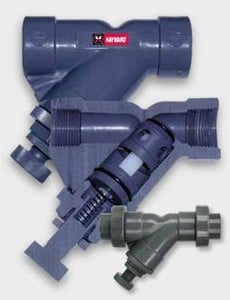 GENERAL DESCRIPTION
Backflow Prevention: Hayward's Spring-Loaded Y-Check Valves give positive protection against reversal of flow in a piping system, even in the absence of back pressure. Check valves that are not spring-loaded require fluid back pressure to seal. If an application cannot produce enough back pressure, the standard check valve can't seal. Hayward Spring-Loaded Y-Check Valves do not require system generated back pressure to work.
Applications: Installed downstream of a pump, these valves prevent unwanted flow of the process fluid once the pump has been turned off, even if there is no back pressure. For process vessels located inside a secondary containment area, this prevents siphoning of the vessel. For open distribution lines, the valves optimize operational efficiencies by preventing unwanted loss of process fluid. By retaining the process fluid downstream of the pump, the valves greatly reduce the likelihood of water hammer that can occur if a pump is started in an empty, open line.
Reliable, Flexible Operation: Hayward Spring-Loaded Y-Check Valves are hand adjustable and can be set to open the valve at pressures from 2 to 15 PSI. This is a real advantage over other types of spring-loaded y-check valves that require a separate spring for each setting. A lock ring holds the adjustment after it has been set. The double seal design of the valve ensures seal integrity and long life.
Easy Maintenance: There is no need to remove the valve from the piping system for service. Just remove the heavy duty hex cap for quick access to the internal valve components.
No Corrosion Failures: Because of their all plastic construction, these valves will never jam or stick due to rust or corrosion. Also they will not contaminate sensitive fluids that come into contact with them. They require no painting or epoxy coatings to withstand corrosive environments.
Features:
Full Flow Design
Easy Maintenance
Closes with No Back Pressure
Adjustable - Opens from 2 to 15 PSI
Works in Any Position
Two-Year Warranty
Options:
FPM or EPDM Seals
True Union End Connections
You have successfully added from to your part list.
---