Product Announcement from Heat Exchange & Transfer, Inc.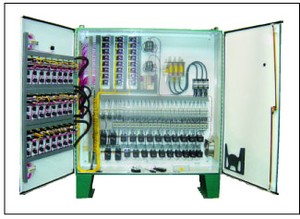 Temperature control centers and custom temperature panels for control of resistive heating loads.
HEAT, Inc. electric process control centers are pre-engineered, pre-wired, control assemblies designed to operateas a temperature activated power controlling device for any type of resistive heating load. All control centers
are built to the National Electric Code utilizing U.L. listed components.
Each control center includes: indicating temperature controller, over temperature controller, main disconnect switch, individually fused contactor circuits, control voltage transformer, power indicating lights, and heater selector switches all mounted in a NEMA 12 or 4 enclosure. Each control center is factory tested before shipment.
In addition to our standard control centers, we specialize in the custom design of temperature control panels.
FEATURES
Heat Transfer Technology for Industry...
From Concept to Completion, We're Involved!
Heat Exchange And Transfer, Inc,
(HEAT) designs and manufactures a complete line of thermal fluid heat transfer systems and electric process heaters. We provide precision temperature control for process heating and cooling applications in almost every industry.

Whether you need temperature control for a jacketed vessel, a press, a roll, or any other type of process equipment, we can offer a solution.

We specialize in custom engineered Hot Oil Heaters, Process Heaters and Thermal Fluid Systems.
Reliable Process Temperature Control Solutions for Industry
The Experts in Engineered Solutions for Industrial Process Temperature Control Equipment
Heat Exchange And Transfer, Inc,
Specializing in:
Thermal fluid heat transfer systems for indirect temperature control of process equipment.
Electric process heaters for direct temperature control of process liquids and gases
Tank temperature control systems with wide range of direct and indirect heating and cooling options.
Products:
Thermal Fluid Heat Transfer Systems
Skid packaged heating and cooling systems that use thermal fluids for temperature control of process equipment from -50°F to 750°F.
Electric heated organic fluid vaporizers allow vapor phase process heating at up to 750°F at low pressures.
Designed to control resistant heaters and complete systems.
Tempered Water Systems & Glycol Systems
Temperature control systems that circulate a water or water/glycol mixture for indirect temperature control of process equipment from -20°F to 250°F
Compact, self contained units for inline heating of a wide range of liquids and gases.
Important equipment accessories for keeping your thermal fluid system running at maximum efficiency.
Secondary Loop Temperature Control Systems
Utilize an existing heating or cooling source to provide temperature control for independent zones of process equipment.
Low watt density heaters provide temperature control for heat sensitive fluids.
• Handle operated, fused power disconnect
• Individually fused branch circuits
• 120 volt, fused control voltage transformer
• Thermocouple sensing temperature controller
• Door mounted heater selector switch
• Lockable thru-door handle
• Pre-set high limit controller
• Sensor break protection
• Terminal strip
CC Series Control Panels - are designed for power control to resistive heating loads. Our heater control centers are built in accordance with the National Electric Code and include digital temperature controllers and SCR power controls.
HEAT Control Centers can be supplied mounted directly on our systems and heaters, or separate for remote mounting and installation. These enclosures are rated NEMA 4, 12, and 4x for non-hazardous and atmospheres. Explosion-resistant enclosures are used for areas where a potential explosion hazard exists.

DESIGN ADVANTAGE
Our heater circuits use SCR proportional power control for more accurate temperature control. PID microprocessor based controllers are used to meet process control requirements.
You have successfully added from to your part list.
---