INDIRECT TEMPERATURE CONTROL OF OVENS
Product Announcement from Heat Exchange & Transfer, Inc.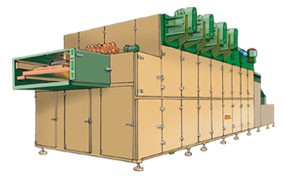 INDIRECT TEMPERATURE CONTROL OF OVENS
Industrial Ovens are used for drying, curing, cooking, and preheating many different materials
Hot oil systems are used with ovens by circulating a hot liquid through coils or plates inside the oven. A circulating fan moves air over the coils and around the oven to maintain a precise heat inside the oven unit.
In addition to the fluid system, an air circulation heater, or air duct heater can be used to heat the air before supplying hot air into the oven.
Thermal Fluid Heat Transfer Systems
Tempered Water Systems and Glycol Systems
Secondary Loop Temperature Control Systems
Heat Exchange And Transfer, Inc,
The Experts in Engineered Solutions for Industrial Process Temperature Control Equipment
Specializing in:
Thermal fluid heat transfer systems for indirect temperature control of process equipment.
Electric process heaters for direct temperature control of process liquids and gases
Tank temperature control systems with wide range of direct and indirect heating and cooling options.
Our core competencies and staff knowledge enable us to deliver exceptional results for our customers:
We are experts in heat transfer related equipment, such as: Pumps, heat exchangers, electric heaters, chillers, fired heaters, control valves, pressure vessels, piping systems, insulation systems, instrumentation, and control systems.
We are experts in the process equipment you are using and the unique heat transfer requirements of both the process equipment and your product.
We are experts in custom designing equipment and quality manufacturing. Our entire staff and facility is dedicated specifically to this purpose.
HEAT EXCHANGE AND TRANSFER PRODUCTS
Process Applications by Industry
REPLACEMENT PARTS - HEAT maintains an extensive inventory of parts to help you maintain your HEAT equipment. The following is a sample list of equipment that is in stock and available for fast delivery: replacement pumps, pump seal repair kits, gaskets, starters, fuses, SCR's, temperature controllers, thermocouples and pressure gauges.
FIELD SERVICES - HEAT service technicians are available to travel to your facility for a variety of on-site services.
FACTORY BASED SERVICES - Due to the complex construction of this equipment, some services can only be done at the factory. The following services are available from HEAT service technicians, when your equipment is located at the HEAT factory
RENTAL EQUIPMENT - HEAT has a varying inventory of hot oil heaters available for rental. Whether you need a temporary replacement or have a short term need with an R&D project, we may have an answer for you
HEAT EXCHANGE AND TRANSFER PRODUCT LITERATURE
REQUEST A QUOTE OR INFORMATION FROM HEAT EXCHANGE AND TRANSFER
You have successfully added from to your part list.

Play INDIRECT TEMPERATURE CONTROL OF OVENS Video
---