Product Announcement from HEIDENHAIN Corporation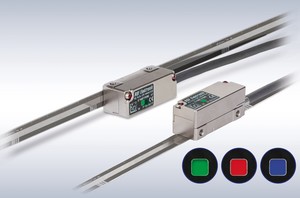 (April 2013) – The new RSF MS 14 encoder system fulfills the need for a small package, high resolution encoder that has a repeatable optical reference mark, along with an easy visual display of signal quality. Available in North America through parent company HEIDENHAIN Corporation, this frictionless kit style encoder is perfect for motion feedback applications such as metrology, semiconductor, and medical markets where high resolution and small mechanical size is a necessity.
The multicolored signal status LED on the MS 14 scanning unit makes the mounting quality visible at a glance during installation. No further installation aids are required. The status display also makes it possible to quickly and easily check the signal quality right at the scanning unit during normal operation.
The optical reference mark is bi-directional and is not affected by magnetic fields of linear motors. The scanning unit dimensions allow it to be installed as a direct mechanical replacement to other encoder brands by implementing the scanning unit and MS 14 scale tape.
Besides offering a high contrast ratio graduation, the MS 14 is available with accuracy grades of ± 5 and ±15 µm depending on scale tape mounting method. For resolutions, the RSF MS 14 provides a grating period of 40 µm for analog systems (for digital systems, signal periods from 2 microns down to 100 nanometers are available).
For more information on this encoder, RSF Elektronik can be accessed directly via the web site at www.rsf.at. The North American contact for RSF products is Kevin Kaufenberg (at 847-490-0387 or kkaufenberg@heidenhain.com) in the HEIDENHAIN Corporation offices at 333 E. State Parkway, Schaumburg, IL 60173.
RSF Elektronik is based in Austria with North American representation and distribution through HEIDENHAIN Corporation in Schaumburg, IL, USA. Since 1973, RSF Elektronik has been well known worldwide for offering high quality linear encoders, rotary encoders, digital readouts, and custom measuring systems. In addition to standard product lines, RSF offers customized measuring solutions tailored to the metrology, semiconductor, automation, and medical industries.
#
You have successfully added from to your part list.
---