Custom Infrared Lamps
Product Announcement from Heraeus Noblelight, LLC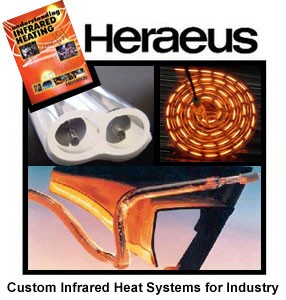 Heraeus is in the business of solving problems. To that end, we develop infrared lamp designs to meet unique, specific, exacting requirements. Some recent, real-world examples include:
* Medium wave multiple coil emitter with gold reflector
* Short wave small area IR heater. Approximate heated area 2"x2", 500W.
* Medium wave small area IR heater. Approximate heated area 2"x2", 400W
* Shortwave single tube T3 bent to follow unique part contour
* Shortwave twin tube bent to follow part contour
* Water-cooled Infrared High-power infrared heaters
* Shortwave ring heater for intense rapid heat-up of rods
* Infrared heaters with Internal coil connections possible for filament power switching
* Ultra small spot heating, with gold reflector for focused heat
* Shortwave Plug-in IR heaters
* Infrared lamps in spiral form
* Infrared lamps with a slot in one of the tubes, working like a drying channel
* Ring heater, internally focused for intense rapid heat-up
* Radial IR heaters
* U-bend IR heaters
The possibilities are virtually endless. Contact Heraeus to discuss your unique application.
HERAEUS OFFERS COMPLETE INFRARED TECHNOLOGY
Additional links:
Infrared heaters are completely produced by Heraeus, from processing of the raw crystalline quartz to final assembly of the heater. Infrared modules and complete infrared systems are built to customer specifications. Control systems for modules and systems are designed in-house. A technical center for investigating infrared applications is available. Heraeus has many years of experience providing solutions for hundreds of applications. Comprehensive solutions and customer service are the foundation of our business.
Click here to request your own copy of the popular free guide "Understanding Infrared Heating." Use this link
A number of key applications for Industrial Infrared Ovens include (CLICK on the applications to learn more about the uses and products on Heraeus's website):
Other sources of information and Products:
INFRARED HEATERS AND THEIR PROPERTIES - Come to the experts!
Short Wave, Twin Tube Emitters are comparable in spectrum to, and slightly longer in wavelength than halogen infrared lamps.
Fast Response, Medium Wave IR heaters are twin tube heaters with a spectrum between short wave and standard medium wave infrared heaters.
Carbon IR heaters use a carbon ribbon as the heating element.
Medium Wave IR heaters distinguish themselves by being highly efficient and stable while having a long operating life.
Infrared heaters for Targeted Heat are designed to heat small components, part surfaces or curved surfaces.
You have successfully added from to your part list.
---