Process Heat for Activating Adhesives
Product Announcement from Heraeus Noblelight, LLC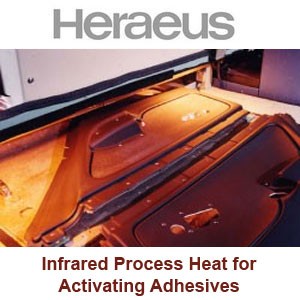 Infrared technology from Heraeus Noblelight is an effective and efficient means of applying process heat for a variety of applications. Activating adhesives is one area that benefits greatly from the unique, targeted and efficient properties of IR.
A coil of aluminum has adhesive applied in strips which is dried using shortwave infrared heaters from Heraeus Noblelight. The coil is cut into sheets which are overlaid with adhesive strips. The adhesive is cured in autoclave after which sheets are pulled to produce honeycomb structure. Previously the manufacturer used a hot air oven for drying the adhesive; the new infrared system runs faster and allows more homogeneous drying of the adhesive.
A manufacturer of electrical white boards sought a method to heat glue. Heraeus Noblelight solved the challenge by providing carbon twin tube modules. Controlled by pyrometer, the system melts glue evenly so that brass wires can be pressed down into it.
A laminating process required preheating of glue. The old method was a hot air oven that suffered from low speed and long heating time. A mediumwave modular system from Heraeus Noblelight provided high speed, reduced heating time, and a shorter production line.
These examples are by no means a complete list.
For more information, and to discuss your particular unique application, please contact Heraeus Noblelight.
A sampling of infrared curing applications we provide solutions for include:
Ceramics:
Glass:
Metal:
Plastic:
Powder Coating:
Textiles:
Many industries handle their needs for Drying with Infrared Heaters. Infrared dries coatings, reduces mositure and more:
Metals:
Paper:
Plastic:
Textiles:
Paints and Lacquers:
Print Drying on Paper:
You have successfully added from to your part list.
---