Process Heat for Curing Applications
Product Announcement from Heraeus Noblelight, LLC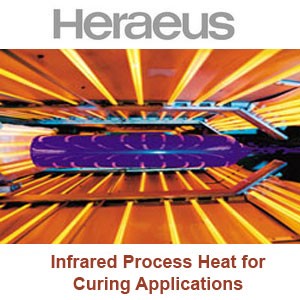 When looking for process heat for curing applications, there are a number of heat sources to choose from. While UV is a popular choice, infrared technology offers a number of significant advantages; quicker and more efficient curing is chief among these.
Some popular applications for IR technology in curing include:
Curing paste in ceramic lightbulb sockets
Curing glass fiber sheets
Heating bearings prior to white metaling
Curing powder on compressor units
Curing latex backing of carpets
Powdercoating of motor casings
Powdercoating of steel and MDF panels
Powdercoating of steel cylinders
Heating fabric roof on convertible automobiles
Fixation and Curing of Digitally Printed Fabrics
Curing Neoprene and Silicone Coatings on Fabric
These examples are by no means a complete list. Infrared heat is an effective and efficient means of applying process heat in many other applications. Heraeus offers complete systems using infrared technology; we can design a system to meet your specific, unique and demanding needs.
HERAEUS OFFERS COMPLETE INFRARED TECHNOLOGY
Additional links:
Infrared heaters are completely produced by Heraeus, from processing of the raw crystalline quartz to final assembly of the heater. Infrared modules and complete infrared systems are built to customer specifications. Control systems for modules and systems are designed in-house. A technical center for investigating infrared applications is available. Heraeus has many years of experience providing solutions for hundreds of applications. Comprehensive solutions and customer service are the foundation of our business.
Click here to request your own copy of the popular free guide "Understanding Infrared Heating." Use this link
A number of key applications for Industrial Infrared Ovens include (CLICK on the applications to learn more about the uses and products on Heraeus's website):
Other sources of information and Products:
INFRARED HEATERS AND THEIR PROPERTIES - Come to the experts!
Short Wave, Twin Tube Emitters are comparable in spectrum to, and slightly longer in wavelength than halogen infrared lamps.
Fast Response, Medium Wave IR heaters are twin tube heaters with a spectrum between short wave and standard medium wave infrared heaters.
Carbon IR heaters use a carbon ribbon as the heating element.
Medium Wave IR heaters distinguish themselves by being highly efficient and stable while having a long operating life.
Infrared heaters for Targeted Heat are designed to heat small components, part surfaces or curved surfaces.
You have successfully added from to your part list.
---