OEM Laser for Low Cost Explosion Proof Enclosures
Product Announcement from HiTECH Technologies, Inc.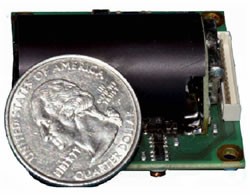 The OEM Laser 30 distance sensor is dedicated for general ranging applications that require instantly triggered and fast data acquisition. The sensor provides measurement rates as fast as 30kHz up to 820ft (250 m) with absolute measurement accuracy in .39" (centimeters range). It operates fully eye safe at a wavelength of 905nm.
The OEM Laser is optimized for easy system integration. It is available with software and can be configured as a distance or level module for specialized system integration. You just have to incorporate your own power supply and provide suitable housing.
For applications that impose high impact on the laser engine for example in industrial or aviation environments, you can fill the laser module and enclosure with suitable compound.
APPLICATIONS:
For the OEM Laser 30 there are many applications in the industrial and military environments.
Distance measurement & fast object detection (30kHz)
Proximity sensing & alarm
2D and 3D scanning applications
Industrial standard interfaces
Industrial automation
Mining applications
for hazardous areas mounted in FM and CSA approved explosion proof enclosures
Level applications in silos
Perimeter alarm
Altitude meter for air crafts and drones
Digital and analog output
---