SONOCONTROL 40 - Through the Wall Level Control
Product Announcement from HiTECH Technologies, Inc.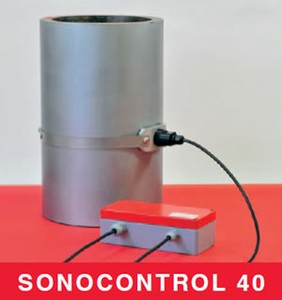 Non-intrusive level control for liquids
The intelligent ultrasonic limit switch SONOCONTROL 40 controls the level of liquids and liquid gases. The non-invasive level control system through the wall, consisting of probe, fastening, couplant and evaluation device, is quick, reliable and cost-effective.
Advantages:
Easy installation from the outside without putting a hole into the tank. Financial losses due to interruptions and re certifications can be avoided.
No contact between probes and liquids.
High pressure or frothing on the surface do not affect the device operations.
Liquid levels in pipes and tanks of diameters up to 20m can be detected without any difficulty.
Application:
Limit control in liquids and liquid gases, ride-height control, full-/empty signalling, protection against dry running, position control, ice level control, gas-, air bubble and solid detection
Innovation:
The compact configuration of the ultrasonic limit switch, containing sender and amplifier, ensures an optimal operating mode. The new evaluation method of the device leads to increased system reliability. Standard applications allow a plug-and-play operation. An additional software facilitates the adaption to specific applications.
---