The Pulse - 62 Two-Wire Radar Level Transmitter
Product Announcement from HiTECH Technologies, Inc.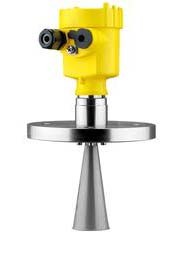 The Puls Radar System, a FM and CSA certified intrinsically safe or explosion-proof, well proven, non-contact, two-wire radar level transmitter, designed for use in process control at temperatures up to 250'C.
For many years the processing industry has recognized that radar had the potential to solve a variety of level measurement applications that are difficult or impossible using other technologies.
Now you can purchase a radar system pre-programmed for your specific application.
Special radar versions are available to handle a broad range of applications with measuring ranges up to 230 feet at very temperatures and pressures.
Applications include most liquids and/or slurries,as the technology is unaffected by surface foam, vapors, pressure or vacuum, and temperature.
For bulk solid applications the radar is unaffected by dust and noise. The Puls 68 is designed for dificults bulk solid appications.
---