Product Announcement from HiTECH Technologies, Inc.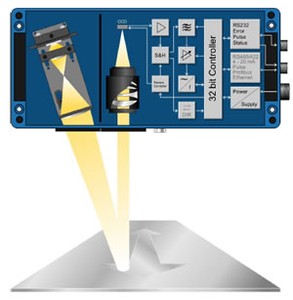 Functional Description
The VLM 320 operates optically without contact, and implements the principle of the spatial filter by means of the use of a CCD sensor. Spatial filter is the generic term used to describe a measuring principle for the non-contact determination of the velocity and length of moving materials. The spatial filter is based on the filtering effect of grid-like structures (grid modulation). The function of the VLM 320 can be described as follows: The object to be measured is reproduced through the objective onto the CCD sensor. The CCD sensor is operated as an optical grid (no image pickup). The object to be measured is illuminated by an integrated light source (LED). External light disruptions are effectively suppressed with this method.
When the object is moved, a signal frequency is generated due to grid modulation. This frequency is proportional to the velocity at which the object is moving. The device measures the signal frequency and converts it to a velocity value. There are several control circuits that enable automatic adjustment to the most varied of materials (material surface structure and brightness).
Applications
Suitable for nearly all materials, such as metal, paper, textiles, plastics, rubber, ceramics and timber
Suitable for a wide range of products, including strips, rails, plates, foils, tubes, profiles, cables, wires, ropes, etc.
Caters for various processes such as cutting, positioning, regulation, inspection, quality control
Examples: Length and speed measurement at winders, slitting lines, coating and inspection lines; velocity measurement in paper machines for example at paper pulp, web and paper; tube and profile length inspection and provision of velocity signals for testing purposes; velocity regulation and cutting control for extruders
Advantages
The semiconductor chip (CCD) is used as a reference: greatest proven long-term stability in the market, excellent short-term stability
Measurements can be taken on virtually all surfaces, from high-gloss to matte black, as the device adjusts itself automatically to the task. Even surfaces that could not be measured reliable with any optical measuring equipment can now be measured!
Accurate measurements, even if the window is dusty, as the reference is well protected inside the device
Compact design, best interface flexibility in the market, including all conventional solutions from analog output to Profibus; high-accuracy pulse output as standard,
Input for change to standby mode
Safe operation (white LED light source)
Easy firmware update/upgrade via PC
Modular design: easy maintenance, new assemblies can be used for repair or upgrade older units; light sources and interface boards can be replaced by the customer itself
Light source monitoring (error code and switch output) and temperature monitoring (command for display and error code)
All gauges have internal length calculation, sliding average, synchronous-, clock- and date functionality
Direct connection of two light barriers possible
High interference immunity thanks to 100% potential isolation and sophisticated ESD and EMC protection
Long service life, making the VLM 320 excellent value for money
High quality standard, made in Germany; with 36- months warranty
You have successfully added from to your part list.
---