Bar Products
Product Announcement from High Performance Alloys, Inc.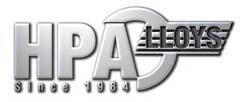 High Performance Alloys stocks mainly round bar products. Their extensive inventory ranges in sizes from wire through as large as 12 Inch diameter. Normal stock lengths are 12 foot random (10 to 12, or 11 to 13) in length. Some bar products are carried in longer mill lengths of 10 to 18 foot randoms. Their inventory serves a dual purpose; they can sell it as a distributor product, or use it for manufacturing custom requirements in bar.
High Performance Alloys is capable of manufacturing bar lengths up to 30 feet. Depending on the material required, there may be several tempers, or manufacturing methods used. Sometimes the material specification will determine the required manufacturing method by requiring a cold drawn, hot rolled, or hot forged condition. The following details some of the types of manufacture we have available for our customers.
Hot Worked or Cold Reduced Bar

Key Benefits
Improve a metals mechanical strength.
Finer grain structure
More uniform properties in cold reduced bar at larger diameters
Cold reduced bar can reach 195 KSI Tensile strength at as early as 2" Diameter
GFM Rotary Forged Product
Key Benefits
Produce a size of stock that has run out, or is normally not available. Ideal for short production runs.
Convert stock that is not moving to a useful size. This is smart use of raw material, rather than scrapping or remelting.
Can be supplied as: Aged, cold worked, hot rolled as rolled, cold worked "strain hardened" and aged, cold drawn and stress relieved.
Use HPAlloys to produce bar when:
The project requirement does not warrant "a mill quantity." HPA's production quantities are normally quite low, allowing production closer to what is actually needed for a project.
The job does not have 12-18 weeks (or sometimes longer) to wait for delivery. Most projects cannot wait for a break in a 16 week production.
Due to the high cost of inventory in these grades, shortages often occur - but HPA has a very short turnaround time for production of small quantities.
A particular size is needed, and the next size available is over half an inch oversize. These Nickel and Cobalt based grades are too expensive to turn into machining scrap.
Hot worked or strain hardened is a special condition of bar temper in some alloys, that can only be attained though a special production.
Sizes from 0.062" to 12" Dia available, depending on the material and condition, from HPA stock for immediate shipment!
HPA is capable of producing cold reduced bars to customer's requirements in less than two weeks with their stock materials, and customers' material conversions are also welcome.
You have successfully added from to your part list.
---