BRAKEBOSS™ Brake Control System for Demanding Apps
Product Announcement from Hilliard Corporation (The)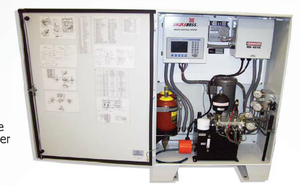 The Hilliard Corporation's BRAKEBOSS™ family of brake control systems are designed to operate a wide range of Hilliard/Twiflex brake systems in demanding applications such as mining, material handling, power generation, and steel. They are constructed of high quality, locally available components. BRAKEBOSS™ power units are designed for use in harsh environmental conditions. The BRAKEBOSS™ family consists of 3 levels, from basic on/off operation to computer controlled braking.
H3 Power Unit
The H3 Power Unit is Hilliard's most advanced Brake Control System. PID Loop Control monitors speed and continuously adjusts brake pressure to allow a preselected Start/Stop profile.
Controls Start Time applications with high overhauling load conditions
Controls stop time independent of load and speed
UPS Battery backup to make a controlled stop during power failure
Superior belt tension management for long conveyors or conveyors with horizontal and vertical curves
On-Board fault diagnostics with alarms interfacing with the customers PLC
H2 Power Unit
The Hilliard Model H2 Power Unit incorporates an engineered hydraulic circuit to control the brake torque during an E-Stop. Large capacity hydraulic accumulators provide additional volume for precise control of brake pressure.
Controlled Braking Mode
Fully Enclosed in NEMA 4 Cabinet
High Pressure Filtration Ensures Trouble Free Operation
Manual Overrides and Hand Pump for Brake Operation During Power Outage
H1 Power Unit
The H1 Power Unit is Hilliard's base model that includes on/off and ramped braking modes. There are many options available to customize the system to specific needs of the application.
Low cost alternative
Integral manifold mounting
Heavy duty pump with fail-safe design
About Hilliard Corporation
A world leader in motion control and filtration technology located in Elmira, NY, since 1905, the Hilliard Corporation offers a broad line of motion control products, oil filtration and reclaiming equipment, starters for industrial gas, diesel engines and gas turbines, and plate and frame filter presses used in the food and beverage industry.
---