Star Filter Press
Product Announcement from Hilliard Corporation (The)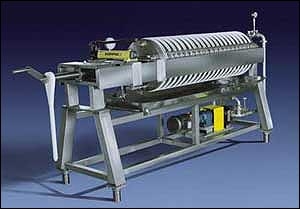 Hilliard's filters are sturdily built, with a rugged carbon steel stand coated in durable epoxy paint. Standard plates, frames and their components are fabricated from solid bars, plates and forgings of #304 stainless steel. Heavily reinforced for maximum life, the precision-machined plates, frames, and heads warrant a tight seal and near zero leakage without gaskets.
Key Features:
·Ideal for filtration of food products and beverages, and most chemicals.
·Efficient and economical control of pollution and waste water.
·Effective filtration of all liquids associated with production of pharmaceuticals and cosmetics.
·Efficiently collects precious and semi-precious metals and process metallic oxides.
Star Filter Presses can be fabricated in a variety of metals including carbon steel, monel, aluminum, and other special alloys upon request.
Filter Press Design Features:
·Available in both round and square types
·Sizes range from the 1211 compact models to the large 3011 production models
·Easily customized to meet your special needs
· Sludge frames of open design
· Fabricated construction
· USDA-accepted models
· Heavy-duty side bars
· Liquid-filled pressure gauge
· Precision-machined plates, frames, and heads
· Stainless steel drain pan
Filter Press Advantages
· High sludge capacity
· Low maintenance
· No gaskets
· Greater corrosion resistance
· Sturdily built
· Easy to operate - simple to clean
· Durable finish
· Future addition of plates and frames
You have successfully added from to your part list.
---