Hilman Rollers for Nuclear Waste Cask Transport
Product Announcement from Hilman Rollers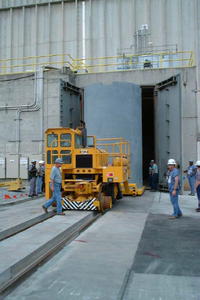 Hilman Rollers proved to be a high capacity and low profile solution used for the on site transport of nuclear fuel casks at this nuclear power facility. The rollers used are 150 metric ton capacity, which are outfitted with high yield steel frames and the Accu-Roll Guidance system to fit the embedded rail track.
Since 1953, the OriginalHilman Rollers are designed and manufactured in our state of the art facilities in New Jersey, USA – centrally located between the ports of NY and PA.
Hilman Rollers are low profile, high capacity moving devices that offer a multitude of moving applications. Ranging in size from small machinery to entire bridges, buildings and offshore oil rigs; Hilman Rollers have moved some of the largest objects in the world.
Hilman Rollers are available in 100′s of styles and types. We offer a variety of individual Rollers with rigid tops for straight-line moving, swivel and swivel-locking tops for making turns and the precision placement of heavy equipment. Hilman moves the lightweights as well as the heavy weights. Available in complete deluxe moving kits or as individual Rollers; there are endless modification possibilities, customized applications, and many options to select from.
Because of the all-steel construction of Hilman Rollers, virtually any part or the entire Roller can be modified.
Let us help you select the right rollers for your heavy load move!
Heavy or large load to move?
Questions or issues regarding the best method to move it?
Need design engineering for your custom moving applications?
You have successfully added from to your part list.
---