Interactive Tour of Hitachi Industrial Inverters
Product Announcement from Hitachi America, Ltd., Industrial Components and Equipment Division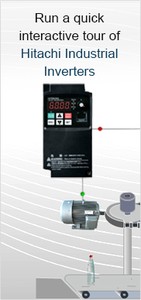 Hitachi America, Ltd. is one of the leading suppliers of AC variable frequency drives (industrial inverters) that are utilized for an array of applications in the Americas. Hitachi industrial AC variable frequency drives are equipped with several advanced features, and deliver unprecedented performance, reliability, and flexibility. Hitachi holds deep expertise in manufacturing new generation AC variable frequency drives that offer high level functionality and accuracy.
Hitachi industrial inverters are a result of high degree of commonality between models and user-friendly configuration software, making them easy to install, program, and maintain. With our broad lineup of industrial AC variable frequency drives, we aim at providing an economical solution for industry's most challenging applications.
Take a quick interactive tour of Hitachi Industrial Inverters to learn more.
---