Product Announcement from Hitachi America, Ltd., Industrial Components and Equipment Division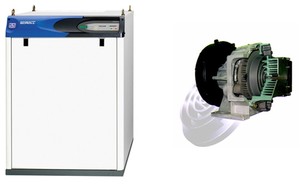 Hitachi America, Ltd., Industrial Systems Division, introduced of the SRL Oil-free Scroll Air Compressor Technology into North America. As the originators of Scroll Technology for air compression, this portfolio addition for Hitachi Air Technology Group provides a unique value for the discriminating air consumer. Hitachi's nearly 100 years of compressed air experience lay the foundation for this advanced product series.
Features of the SRL Oil-free product portfolio include but are not limited to:
100% oil-less design to conserve natural resources and eliminate environmental emissions (No lubricants and/or grease to manage.)
Patented Scroll Wrap with AlumiteTM surface treatment and labyrinth seal which provide superior performance and reliability
Multi-stage cooling to provide stability of discharge air temperature.
Microprocessor based Cycle Control Logic which automatically elongates the Load/Unload (On/Off) cycle to avoid excessive restarting frequency and promote extended package life.
Integrated Air Receiver(s) as standard to promote proper air system design.
Quiet Enclosure as standard providing industry leading low sound levels.
Incorporation of Hitachi motors and air-ends to convey highest efficiencies throughout the operating range.
Hitachi's SRL oil-free scroll air compressor products are part of the Air Technology Group, which is based in Charlotte, NC. The Charlotte facility is the center for all Air Technology Group business operations, warehousing, and training for Distribution Partners and OEMs.
To learn more, visit www.hitachi-america.us/airtech or contact airtechinfo@hal.hitachi.com
ABOUT HITACHI
Hitachi America, Ltd., Industrial Systems Division supplies a broad range of Industrial Infrastructure products and services. The division supplies market sophisticated electrical and electronic industrial equipment and components for application in pharmaceutical plants, food and beverage processing, steel making, mass transit systems, chemical plants, and other manufacturing facilities.
Hitachi America, Ltd., a subsidiary of Hitachi, Ltd., markets and manufactures a broad range of electronics, computer systems and products, and provides industrial equipment and services throughout North America. For more information, visit www.hitachi-america.us.
Hitachi, Ltd., (NYSE: HIT / TSE: 6501), headquartered in Tokyo, Japan, is a leading global electronics company with approximately 390,000 employees worldwide. Fiscal 2007 (ended March 31, 2008) consolidated revenues totaled 11,226 billion yen ($112.2 billion). The company offers a wide range of systems, products and services in market sectors including information systems, electronic devices, power and industrial systems, consumer products, materials, logistics and financial services. For more information on Hitachi, please visit the company's website at http://www.hitachi.com
You have successfully added from to your part list.
---