Interconnect Materials for Photovoltaic Cells
Product Announcement from Hitachi Metals America, LLC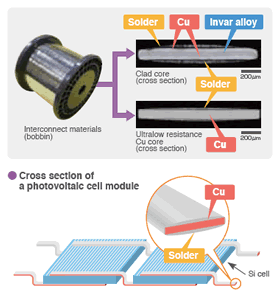 Hitachi Metals' interconnect materials can improve power generation efficiency, productivity, and the lifetimes of photovoltaic panels.
These are highly recognized for their superior effectiveness to prevent cracks and warps of thin Si cells caused by heat stress from the welding process. We offer models with clad cores that have a lower thermal expansion coefficient and models with Cu cores engineered for ultralow yield strength. We have a lead-free type and other wide selections for surface coating solder.
Applications
Interconnects for crystalline Si photovoltaic cells
Visit Hitachi Metals or contact us today for more details.
---