Magnetic Materials Used in Hybrid & Electric Cars
Product Announcement from Hitachi Metals America, LLC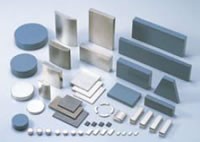 The Hitachi Metals Group contributes to the development of next-generation automobiles by consistently developing magnets to improve the drive motor performance of hybrid and electric cars, soft magnetic materials mainly used inside inverters of these automobiles and other automotive components and materials.
Components and Materials Peripheral to the Drive Motor
"NMX Series" Nd-Fe-B Sintered Magnets
Double Phase Magnetic Materials
Inverter Components and Materials
FINEMET® Nanocrystalline Soft Magnetic Material
Metglas® Amorphous Soft Magnetic Material
"FM-VL series" Common Mode Choke Coils
"FT-3KL F series" Zero-Phase Reactors (Common Mode Choke Cores)
MICROLITE® Power Inductor Cores
DC-DC Converter Components and Materials
Soft Ferrite
Transformers for DC-DC Converters
Cut Cores for Power Choke (FINEMET® F3CC and Metglas® AMCC series POWERLITE®)
Visit Hitachi Metals or contact us today for more information.
You have successfully added from to your part list.
---