NEOMAX® Rare Earth Magnets for Clean Energy
Product Announcement from Hitachi Metals America, LLC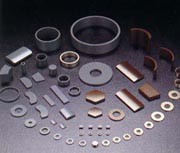 As part of the rare earth family of permanent magnets, Neodymium (Nd)-Iron (Fe) Boron (B) material is often referred to as Nd and offers the most advanced permanent magnet material available today. Nd magnets have an excellent dollar value in terms of price per unit of energy product allowing small shapes and sizes with high magnetic fields. These magnets can be found in high-performance motors, actuators, speakers, hard disk drives, sensors, and numerous other areas.
With its dramatically advanced magnetic performance, NEOMAX® has created a new horizon and is now used in various industrial fields, contributing to technological innovations. As environmental problems have become increasingly serious concerns, the trend toward reduced energy consumption and higher output is gaining momentum.
NEOMAX® is playing a vital role in meeting these technological needs and is increasingly adopted in electronics equipment, industrial equipment, hybrid cars and electric vehicles, to name but a few. NEOMAX® now has a remarkably expanded range of industrial applications.
In this age of environment and innovation, we work together with our customers to contribute to the creation of a sustainable society, consistently drawing upon our outstanding development capabilities.
Hitachi Metals America Ltd. (HMA) offers a complete line of Nd magnets.
Characteristics
Lower costs than samarium cobalt
High energy products (up to 56 MGOe)
Good mechanical characteristics
More temperature dependent than samarium cobalt
Susceptible to surface oxidation and often require a suitable surface treatment
---