Single Door Free Stand SS Enclosures
Product Announcement from Hoffman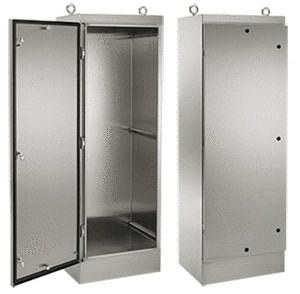 Application
This single-door stainless steel enclosure with quarter-turn latches is designed to house electronic controls and components. It provides protection from non-corrosive or mildly corrosive elements in both indoor and outdoor environments. Typical applications are in the pharmaceutical, food and beverage, packaging, water, petroleum and chemical processing industries.
Specifications
• Type 304 Stainless Steel 14 gauge doors and body, and 14 or 12 gauge back
• Seams continuously welded and ground smooth
• Flange trough collar on all four sides of door openings
• Seamless foam-in-place one-piece gasket provides water-, oil- and dust-tight seal against contaminants
• Black die-cast quarter-turn latches with slotted insert provided on three sides of door
• Concealed stainless steel hinges provide 180-degree door opening and allow easy door removal and cleaning of hinge area
• Heavy-duty Type 316L stainless steel lifting eyes
• Internal accessory mounting channels welded horizontally to sides at top, bottom and center
• High-impact plastic Data Pocket kit, attached with pressure-sensitive adhesive, is included with enclosure
• Bonding provision on door; grounding stud on body
• Accessory mounting channel provided in enclosure top
Finish
Stainless steel enclosures are unpainted. External surfaces of front, sides, top and bottom have a #4 finish. Interior welds are not finished.
Optional mild steel back panels are painted white. Optional conductive back panels are available.
---