OPAL Industrial Control Panels
Service Detail from Hoffmann + Krippner Inc.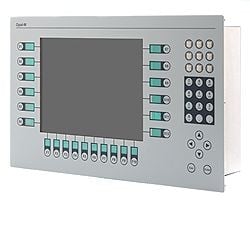 As a standard control panel, OPAL represents a modular industrial interface panel to control machines and other fabrication equipment.

It is available in various standard sizes (5.7" display, 10.4" display and 12.1" display), comes optional with or without resistive touch screen, emergency button and key lock system. It is connected to the operation system of the machine or fabrication equipment through an integrated USB cable.

OPAL can be easily integrated into existing applications and includes the possibility to individually label each key with our own OPAL 'EasyLabel' technology for maximum flexibility. This unique feature enables you to label each key on the OPAL panel individually by using a template available online at www.opalpanels.com and printing directly on specially provided labels that easily slide onto the label pockets on the backside of the panel.

With OPAL, we offer you a flexible and inexpensive alternative to the long and expensive development of your own control panel. Instead of waiting weeks or months for prototypes, you can simply configure your control panel online at www.opalpanels.com and get it within days. Once received, you can individually label each key and have a customized control panel ready within a short amount of time.

OPAL is the perfect solution for customers who need only smaller quantities but do not want to compromise on functionality or quality.

AVAILABLE MODELS:
• OPAL S with 5.7" display and 43 keys
• OPAL M with 10.4" display and 49 keys
• OPAL L with 12.1" display and 55 keys


PRODUCT FEATURES:
• Standard industrial control panel
• Base material: Aluminium
• Surface material: PVS-G
• All keys are embossed
• All function keys can be labeled individually
• Integrated alphanumeric keypad and arrow keypad
• Easy attachment to devices with intgrated studs
• 1 Million operations guaranteed per key
You have successfully added from to your part list.
---