Product Announcement from Honeywell Analytics, Inc.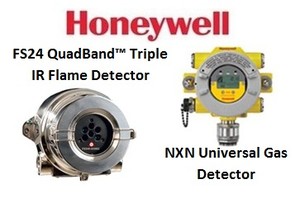 Integrated Fire and Gas Solution from Honeywell Analytics.
Honeywell Analytics offers a an integrated fire and gas solution for your industrial applications. The addition of Fire Sentry flame detection to our exisiting gas detection portfolio allows us to offer a completely integrated, easy, reliable solution.
Fire & Flame Detection Products
Our Fire Sentry line includes fast-responding electro-optical flame detectors that are ideal for industrial settings such as petrochemical, semiconductor, paint booth/finishing, automobile airbags and munitions plants. Fire Sentry flame detectors are designed to ensure rapid, accurate and reliable detection of both hydrocarbon and non-hydrocarbon fires within a single device. Our patented WideBand IR™ technology does not rely on the narrowband 4.3-micron CO2 molecular emission line with its intrinsic shortcomings and restrictions, but rather our technology uses high-speed, wide temperature range photoconductor quantum-based sensors.
Featured Products:
You have successfully added from to your part list.
---