Experion Process Knowledge System (PKS)
Product Announcement from Honeywell Process Solutions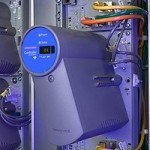 Since it was launched in 2003, Honeywell's Experion® Process Knowledge System (PKS) has proven to be extremely successful in helping thousands of customers worldwide improve productivity and profitability with innovative technology. Experion transforms process control beyond traditional Distributed Control System (DCS) functionality by unifying people with process variables, business requirements and asset management. It is the only automation system that focuses on plant personnel and making the most of their knowledge. Experion delivers:
30% reduction in maintenance costs
1-3% increase in production and 1-2% decrease in costs due to asset effectiveness
1-4% increase in production due to process optimization
Up to 13% increase in production volume and 5% decrease in production costs
40% reduction in operator-related incidents
Up to 50% better return-on-investment over facility lifecycle
Experion R300, Experion's latest release, demonstrates Honeywell's commitment to innovation and investment protection with new features to enhance safety, reliability and performance, including:
Designed-vertical Series C I/O, delivering a smaller footprint and reducing installation and maintenance costs
A new Control Firewall protects the control level from unwanted Ethernet messages
Unique automated Experion Backup and Restore feature protects PC system data to quickly restore after a PC failure
Procedural Operations integrates best practices for system startup and shutdown to improve operator performance
Seamless Migration Thousands of global customers have upgraded Honeywell systems to Experion or migrated competitor systems to Experion with excellent results.
Learn more about the benefits of migrating to Experion.
Featured Experion Customer Success Story Customers around the world have share their success stories about Experion, and other Honeywell products and services.
Peroxy Thai Upgrades to Experion
Peroxy Thai upgraded it chemicals facility to Experion in just three days, resulting in enhanced productivity, improved operator interface and localized support.
Learn more.
Read more Honeywell customer success stories.
About Honeywell Process Solutions:
Based in Phoenix, Arizona, Honeywell Process Solutions is a division of Honeywell Automation and Control Solutions (ACS) and has been a pioneer in automation control for more than 30 years. Honeywell Process Solutions and the other units of ACS comprise nearly $10 billon of Honeywell's overall $31 billion business. Honeywell Process Solutions employs more than 10,000 people in 95 countries and serves several industries, including refining, oil and gas, pulp, paper and printing, power generation, chemicals, life sciences, and metals, minerals and mining.
Please click on the links to the right for more information or request a quote today!
---