Honeywell HC900 Control Station Operator Interface
Product Announcement from Honeywell Process Solutions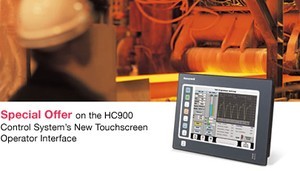 Honeywell's HC900 Control Station Operator Interface
HC900 controllers combine loop and logic control for unit process applications requiring analog measurements with discrete actions. The new Honeywell 900 Control Station with its intuitive touch screen operator interface can make it easier to implement control changes and manage process data than ever before.
Become more productive with Honeywell's HC900 control system
Highlights:
Get an improved view of all setup and processes with the new 10" touch screen color graphic display.
Accelerate display development time and eliminate data referencing errors with new configuration software that includes automatic tag database building.
Design your custom interface to match operator needs perfectly with custom graphic displays built from more than 4,000 pre-built objects, symbols, and function blocks.
Reduce process setup time for error-free product changeover by using recipes to load setpoint profiles, variables, setpoint schedules and sequences for specific processing runs.
And more
Honeywell's HC900 control system is a cost-effective automation platform for equipment and small to medium processes.
Read more about the HC900 and its new operator interface.
Contact us today for details on how to start saving with all the benefits of our new HC 900 Control Station Operator Interface.
---