Honeywell's OneWireless Starter Kit: A Safer Plant
Product Announcement from Honeywell Process Solutions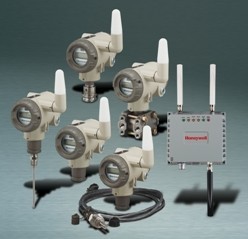 Honeywell's OneWireless Starter Kit - A Safer Plant
This kit includes two of Honeywell's XYR 6000 wireless transmitters, enabling automated monitoring in areas where traditional hard-wired transmitters are too costly, difficult or time-consuming to implement. If you would like to add additional sensors to the transmitters included in the kit,
Get started on the road to a more efficient and safer plant with Honeywell's universal, simple, and efficient OneWireless™ network. Honeywell's OneWireless Starter Kit provides you with an introduction to Honeywell's industrial wireless solutions. Within 20 minutes, you can set up a multi-functional wireless plant network that can grow to include additional devices and 802.11 handheld devices, such as Honeywell's IntelaTrac PKS and Mobile Station.
Honeywell's OneWireless multi-functional wireless mesh network supports wireless-enabled applications within a single wireless network to optimize plant productivity and reliability, improve safety and security, and ensure regulatory compliance. Supporting both Honeywell's XYR™ family of wireless transmitters, and offering an open yet secure backbone to 802.11-enabled equipment , this network delivers a global solution with robust security, predictable power management and multi-speed monitoring. This is the only wireless network you'll need for your industrial plant.
---