Integrated Safety
Service Detail from Honeywell Process Solutions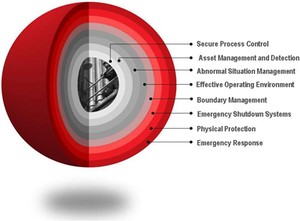 Ensuring safety requires reducing the risk of incidents, faults, and failures that can disrupt normal operations. Protecting your people, assets, and profitability demands a holistic safety view. Honeywell offers an integrated, layered approach to plant safety that helps customers improve their business performance and peace of mind. This integrated approach is Honeywell's defense in depth strategy that offers solutions to protect your plant from the process control network to the perimeter.
At the core of this sphere of protection is process design, the embodiment of the business, safety, and production considerations necessary for effective operations. We help ensure that your processes are controlled by a secure process control network extending across the entire plant and business networks. Next, effectively managing assets ensures that the process design continues to function as intended, while protecting the plant from pending incidents with an early indication of failing assets.
At the next layer, Honeywell's integrated approach implements tools and procedures for managing abnormal situations and reducing incidents. When an abnormal situation occurs, our alarm management, early event detection, and ASM-designed displays help ensure the operator has the information they need in the context they need it. This allows operators to react to situations quickly and accurately, thereby avoiding safety incidents.
Next, properly designed emergency shutdown systems and automated procedures can move a plant to a safe state in the event an incident escalates beyond the inner layers of this sphere of protection. Should an incident occur, our fire and gas detection solutions coupled with rapid location of individuals and a carefully designed emergency response procedure will help contain the impact.
Finally, our layered solution protects the perimeter of your facility using physical security that secures access to structures, and monitors maritime traffic approaching a dock.
About Honeywell Process Solutions:
Based in Phoenix, Arizona, Honeywell Process Solutions is a division of Honeywell Automation and Control Solutions (ACS) and has been a pioneer in automation control for more than 30 years. Honeywell Process Solutions and the other units of ACS comprise nearly $10 billon of Honeywell's overall $31 billion business. Honeywell Process Solutions employs more than 10,000 people in 95 countries and serves several industries, including refining, oil and gas, pulp, paper and printing, power generation, chemicals, life sciences, and metals, minerals and mining.
Please click on the links to the right for more information or request a quote today!
---