Product Announcement from Honeywell Sensing and Control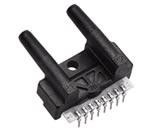 Airflow Sensors from Honeywell - Honeywell's airflow sensors feature advanced chip design and microstructure technology for a faster, smaller, more sensitive microbridge. Available in amplified and unamplified versions with a variety of port styles for application flexibility, they feature a thin-film, thermally isolated bridge structure with heater and temperature sensing elements.
This functionality provides rapid response to the air or gas flow and amount and direction, delivering a proportional output voltage. Amplified versions provide an enhanced output signal and less external circuitry, while unamplified versions allow additional external circuit options. Contains thin-film thermally isolated bridge with heater and temperature sensing elements. Bridge promotes sensitivity and fast response to flow. More Informaiton...
Honeywell offers:
Advanced chip design, manufacturing techniques and microstructure technology
Notably faster, smaller, sensitive microbridge
Variety of port styles to provide greater application flexibility
Quick Links:
About Honeywell Sensing & Control:
Honeywell Sensing and Control is a global leader in cost-effective, problem-solving sensor and switch solutions. We serve thousands of customers in four core industry segments:
Our Extensive line of products includes (use the links below to navitate to the specific products and data sheets):
Electromechanical Switches:
Electronic Sensors:
Machine Safety:
Controls, Monitors & Lighting:
Sensors for Test & Measurement Appications:
Aerospace & Military Products:
You have successfully added from to your part list.
---