Aquapure Odor Lock
Product Announcement from Hubbard-Hall Inc.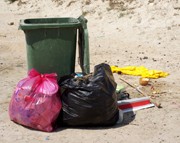 Hubbard-Hall's new Aquapure™ Odor Lock is a liquid blend of true odor neutralizers for airborne odors. When sprayed or misted into the air the mist particles react with odor causing gases of organic and inorganic materials and converts them into odorless, stable, non-toxic compounds. Odors are destroyed, not just covered up.
Aquapure Odor Lock is highly effective at neutralizing hydrogen sulfide, methylmercaptan, ammonia, skatole, garbage and any air or surface odor. This can be applied in misting units to contain odor from solid waste roll offs, sludge driers and belt presses of odorous sludge.
Features of Aquapure Odor Lock:
Solvent free, water-based
Immediately destroys malodors
Biodegradable
Non-toxic and skin friendly
---