Product Announcement from Hubbard-Hall, Inc.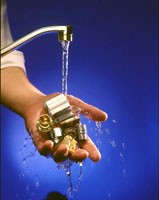 Hubbard-Hall offers a complete line of aqueous cleaners, which consist of water and one or more of the following constituents based on the application: builders, surfactants, corrosion inhibitors, dispersants, and sequestering/chelating agents. Aqueous cleaning chemicals can be further classified by their pH as acidic, neutral, or alkaline.
Benefits of Aqueous Cleaners:
· No or low VOCs
· No or low phosphates
· No ozone depleting chemicals
· Minimal hazardous waste
· Biodegradable components
· Easily waste-treatable
· Excellent for removal of scales and oxides
Hubbard-Hall offers several options with the Aquaease™ and Lusterclean™ lines line, for spray, soak and electrocleaning operations.
Aquaease™ SL 917, a heavy duty, highly alkaline spray and soak/ultrasonic cleaner for a variety of metal substrates. This low foam aqueous cleaner Removes light surface oxides and light rust on steel and 400 series stainless steel. It's also excellent at particulate soil removal when used as a spray.
Aquaease™ PL 714, a mildly alkaline spray cleaner, may be used on
multiple metal substrates and can offer short term corrosion protection and may brighten copper alloys. This low foaming cleaner does not contain any chelating agents.
A non-phosphate option, Lusterclean™ 40 LF is a mildly alkaline, low foaming water-soluble soak and ultrasonic cleaner. The special blend of detergents in Lusterclean 40 LF will emulsify and disperse soils on ferrous metals, copper,
brass alloys, stainless steels, aluminum, nickel coated stock and nickel alloys.
This very effective and fast acting cleaner is safe to use and is non toxic
with no nitrites or petroleum solvents.
You have successfully added from to your part list.

Play Aqueous Cleaning Chemicals Video
---