Chemical Polishing
Product Announcement from Hubbard-Hall Inc.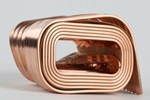 Designed to smooth and brighten metal surfaces, Hubbard-Hall's chemical polishes create a passive, bright surface suitable for:
Further metal finishing treatment
Cosmetically pleasing final finish.
We offer conventional highly concentrated acidic brite dips and/or electropolish solutions, for many substrates including aluminum, copper, steel, stainless steel and zinc.
Featured Product: Copperbrite
Copperbrite Is a heavy-duty ferric sulfate and sulfuric acid based product offering a bright finish and high luster. This product is highly effective at removing oxides and scale from copper and brass alloys in an immersion application. Features of Copperbrite include:
Does not contain chromates, nitrate/nitrites and peroxides
Non fuming
Can be used at room temperature
---