Mi-Tique® Metal Coloring and Antiquing
Product Announcement from Hubbard-Hall Inc.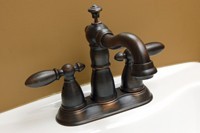 Hubbard-Hall's Mi-Tique® metal coloring and antiquing solutions give a natural aged appearance to decorative hardware, bath fixtures, jewelry and other decorative accessories. Through chemical conversion, a variety of metals can be oxidized to produce black, brown and green color patinas. Tumbling, rubbing or relieving the surface to highlight lettering or create contrast on designs, can create additional effects.
Mi-Tique® Compatible Substrates:
Copper
Brass
Bronze
Nickel
Silver
Pewter
Features and Benefits:
Dilatable liquid concentrates
Suitable for cell manufacturing
Very reproducible colors
Low energy costs
Room temperature processes
Easily highlighted
Short processing cycles
Light fast finishes
Featured Product: Mi-Tique® 1791 & 1792
Both room temperature formulas, Mi-Tique 1791 & 1792 oxidize brass, bronze, copper and munz metal, producing light to dark browns with slight red hues. A black U.S. 10 B finish can be achieved with Mi-Tique 1791.
These products are typically used on:
Door and Cabinet Hardware
Lighting: Lamps and Fixtures
Architectural and Garden Elements
Metal Decorative Accessories
Plumbing: Sinks and Faucets
Medallions and Plaques
Apparel: Buttons and Buckles
---