Deep Drawn Cases, Covers, Headers, ISO Certified
Service Detail from Hudson Technologies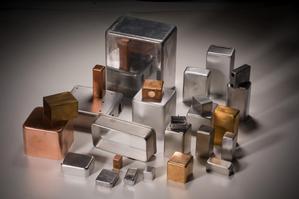 When performance, weight, hermeticity, porosity, corrosion resistance and cost are important, a seamless, deep-drawn enclosure could be the solution.
Seamless metal cases can help with pressure, temperature, vibration, corrosion, weld, and leak issues seen in fabricated components. Deep drawn enclosures can increase reliability, improve quality, and save money.
Over 15,000 standard round, square and rectangular deep drawn cases available with little to no tooling charges.
Standard cases can be ordered with a variety of modifications and finishes.
Many standard cases have inside or outside fit covers with standard cover stops available.
Range of sizes and shapes:
· 1/8" to 12" (3.1 mm to 305 mm) diameter
· Lengths up to 12" (305 mm)
· Material thicknesses .002" to .187" (0.05 mm to 6.35 mm)
· Round, square, rectangular and asymmetrical shapes.
Custom products are built to a customer's print, tolerance and quality requirements. Hudson Technologies has special expertise in forming difficult shapes and working with high performance metals, including stainless steel and titanium.
Design assistance available for manufacturability and reliability.
Project management, supply chain management, quality assurance, and logistics planning available.
Quantities from 1 to 500,000 with higher volume options available.
Green manufacturer - use of environmentally-sound lubricants and an aqueous cleaning system means no hazardous waste is produced.
In-house heat treatment with vacuum and hydrogen belt furnace annealing
More information available at www.hudson-technologies.com
Hudson Technologies is an ISO 9001:2008, ISO 13485:2003 and ISO 14001:2004 certified U.S. manufacturer and a business of JSJ Corporation.
You have successfully added from to your part list.
You need Flash player 8+ and JavaScript enabled to view the Deep Drawn Cases, Covers, Headers, ISO Certified video.
Get the Latest Flash player.
---