Deep Drawn Metal Enclosures & Stampings...
Service Detail from Hudson Technologies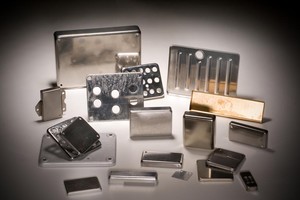 Innovative US manufacturer of deep drawn metal enclosures, cases, cans, covers, shells and half shells (up to 12 inches). Huge catalog of standard shapes and sizes with little to no tooling charges. Custom products built to precise specifications. Expertise with difficult shapes and high performance metals, including stainless steel and titanium. Green manufacturing process.
When performance, weight, hermeticity, porosity, corrosion resistance and cost are important, a seamless, deep or shallow drawn enclosure could be the solution.
Over 70 years of experience and knowledge drawing difficult shapes and difficult metals, including stainless steel and titanium.
Deep Drawn Enclosure Capabilities: diameters .125" to 12.00" / lengths up to 12.00 / material thicknesses .002" to .187"
Metal Diaphragm Capabilities: diameters .200" to 18.00" / material thicknesses .001 to .018"
Cans, or enclosures, may be modified with holes, slots, brackets, inserts / PEM® nuts, etc.
Order a variety of outsourced finishes such as plating, paint, powder coat and silk-screening.
Many standard (catalog) cans have inside or outside fit covers with standard cover stops available with little to no tooling charges.
Custom engineered products built to precision specifications.
ISO 9001:2008, ISO 13485:2003, and ISO 14001:2004 certified U.S. manufacturer. REACH and RoHS compliant.
In-house heat treatment capabilities.
Green your supply chain. Hudson Technologies uses an environmentally-sound aqueous cleaning system and produces no hazardous waste (TCE-free process).
Over 130 presses ranging from 1 to 500 tons.
Capacity and flexibility to make prototype parts up to 500,000, with high-volume options available.
You have successfully added from to your part list.

Play Deep Drawn Metal Enclosures & Stampings... Video
---