CAN-Bus Keypads - J1939 8-Key Model
Product Announcement from HydraForce, Inc.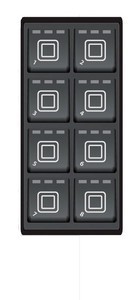 HydraForce CAN networked keypads are designed for machine control systems using the J1939 communication standard. These black keypads are available in 8-button or 20-button models, and feature tactile operation which allows the operator to feel actuation even when wearing gloves. These keypads are sealed for IP68 protection at the front of the panel, and IP67 at the rear.
Buttons feature green backlighting for high visibility and convenience. Button backlighting can be addressed on the CAN network for use as a visual indicator. Three individually addressed amber LED indicators are used on each button to signal function status. LEDs can be sequentially activated to show proportionality of an input or ramping outputs. Keypads come pre-addressed for ease of programming, each additional keypad automatically adjusts it addressing to accommodate the additional CAN message requirements. Customizable graphics are available and laser-etched onto the surface of the keypad for longevity, the entire catalog of SAE 1362 symbols are available for the customization of keypad.
HydraForce CAN keypads are compact and easily installed. They mount in approximately one-half the area required to mount a comparable rocker-switch panel. In addition, installation costs are greatly reduced because of the CAN communication interface which operates all functions on a four-wire set using a standard 4-pin Deutsch plug-in connector. By comparison, a traditional 20-rocker-switch panel requires 160 wiring connections to provide the same function. Up to three panels can be used in a common J1939 network providing outstanding functionality, reliable performance and an economical installation.
These keypads replace our older model CAN keypads, and outperform them in number of individually addressable inputs. HydraForce is committed to continuing innovation in the design, manufacture, and application of hydraulic and electro-hydraulic control components and systems for the material handling and heavy-duty mobile equipment OEM industries.
You have successfully added from to your part list.
---