Product Announcement from HydraForce, Inc.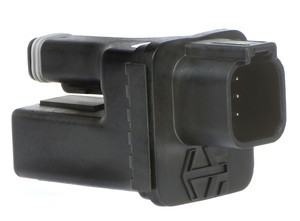 DESCRIPTION
A convenient plug-mounted microprocessor-based controller for use on a hydraulic proportional valve coil. The input signal to the controller can be configured as voltage, current, resistive, or PWM.
OPERATION
The EVDR1 can be configured for a SINGLE or DUAL OUTPUT control based on a single input signal. A single output would be used to control a single solenoid proportional valve coil for flow or pressure control. It could be configured to increase or decrease the output current as the input increases. All input and output endpoints and breakpoints can be adjusted via PC interface and configuration software.
A dual output would be used to control a dual solenoid proportional valve. For a dual control the input would be a joystick that is spring loaded to the center position where both outputs would be OFF. As the joystick is stroked in one direction the corresponding output would increase to adjust the valve and the other output would remain OFF. When the joystick is stroked the opposite direction the other output will respond. Again all input and output endpoints and breakpoints are adjustable and the dual slope will have a center dead band width that is also adjustable.
You have successfully added from to your part list.
---