Product Announcement from HydraForce, Inc.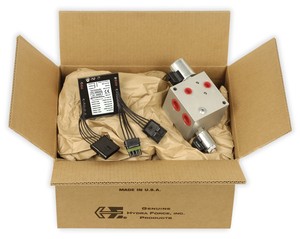 GREATER SYSTEM EFFICIENCY: Hydrostatic fan drive systems can deliver greater efficiency in a wide range of vehicles and equipment including construction and agricultural machinery, military vehicles and stationary power plants as well as on-highway equipment such as trucks and buses.
By combining an EFDR2 Fan Drive Controller and our Patented TS series-- proportional pressure control valve you can take advantage of a reduced price on the controller. By incorporating a low-cost, Hydrostatic Fan Drive System into your mobile machinery not only will you see immediate fuel efficiency and available horsepower benefits, but throughout the life of the machine you will also see a significant decrease in the maintenance and labor costs associated with a machine's upkeep.
This bundle is designed for machines that require multiple temperature sensor inputs, and allows you to program variable fan speed control based on the average temperature input. Fan speed is varied as a function of the pressure set by the proportional relief valve. Maximum fan speed can be attained when the proportional pressure control valve is at its highest setting or at its lowest setting. The controller will "failsafe" to high pressure so that
a loss of the electrical signal causes the fan to operate at maximum speed/ maximum engine cooling if electrical power is lost.
Our Fan Drive Controller's are environmentally sealed to IP67 standards to ensure their protection from dust and water intrusion. Additionally, the EFDR2 features a flame proof resin encapsulation which ensures you can mount in high heat areas with little concern
for the operation or safety of the controller.
For applications where debris may interfere with radiator air flow, the fan direction can be reversed by connecting an external lead from the EFDR2 controller to a separate solenoid valve for reversing the hydraulic motor direction. Fan performance and reversing functions
are set up with our user-friendly Application Configuration Programmer (ACP), PC-based programming/configuration tool.
For application information go to www.HydraForce.com and click on Fan Drive Solutions.
You have successfully added from to your part list.
---