New HyPerformance Valves Avail. for Prototyping
Product Announcement from HydraForce, Inc.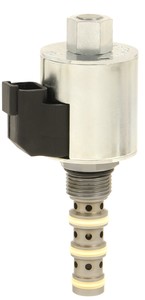 New HyPerformanceTM Solenoid Valves are available for prototyping. These Valves are designed to offer the industry's highest level of valve performance, enabling the most reliable application of cartridge technology in high duty-cycle, high-horsepower and high-pressure machine applications.
Hy-Pressure Reliability
H Series Valves are qualified at 1 million cycles at 350 bar / 5075 psi with pressure excursions to 420 / 6090 psi for 10% of the duty cycle.
Burst tested up to 20,000 psi /1,380 bar
Performance testing is conducted at 350 bar / 5075 psi to assure accuracy and reliability of performance.
Fatigue Tested at 6090 psi / 420 bar for 2 million cycles
Hy-Flow Capabilities
H Series valves will be released as a family of products ranging from the -8 common cavity size to the metric -42 cavity with flow ratings up to 379 lpm / 100 gpm.
The H Series product line supplements the high pressure standard valves already released in the HydraForce catalog. H Series products are differentiated by the heavy duty qualification test standard and the cavity specification.
Hy-Strength Sealing
Standard single-piece PPDI Urethane seals enable reliable operation under heavy duty cyclic operation.
Urethane seals improve reliability under high temperature conditions.
Back-up rings are eliminated providing an easier and more reliable installation while minimizing the risk of pinching.
Fluorocarbon seals are optional with teflon® back-up rings
Hy-Torque Reliability
Installation torques of 3 to 4 times standard screw-in cartridges prevents back-out under heavy cyclic high pressure operation.
The valve cage is retained in, but not fixed to the adapter / cap in order to prevent distortion or binding during installation.
Hy-Performance Cavity
H Series valves use a modified standard cavity with a bottom shoulder to support the cage.
The valve cage is clamped between the hy-torque adapter / cap and the bottom shoulder in order to strengthen the pressure holding capability of the cartridge.
The cavity profile is the same as the standard HydraForce profile with the exception on the bottom shoulder. A revised form tool is required in order to control the depth.
Standard non-H series HydraForce valves can be used in the H cavity. H valves can not be used in the standard cavity due to the missing shoulder.
Hy-Environmental Responsibility
HydraForce valves meet RoHS environmental requirements restricting the use of cadmium, quick silver, lead hexavalent chrome, polybrominated biphenyl (PPB) or polybrominated diphenyl Ester (PPDE) in products, components and packing materials.
In addition products meet requirements limiting the use of hazardous materials as identified in OSHA Standard 1910.1200(g).
Hy-Coil Reliability
HydraForce coils are designed for continuous operation at +/- 15% of rated voltage assuring reliable and safe operation even under cold temperature, weak battery, and severe duty conditions.
E and H Series IP 69K Coils are tested under severe application conditions including thermal shock, water immersion, vibration, dust, high pressure cleaning, severe load cycling, extreme storage temperatures, chemical resistance and humidity.
H Series valves used with H Series coils provide 1000 hour salt spray protection against red rust corrosion.
Hy-Vibration Tolerance
Valve coils and stem tubes are tested to a 20G RMS profile assuring reliability in severe mobile machinery applications.
For more information see our HyPerformance Bulletin or go to www.HydraForce.com.
Contact Factory for more details
You have successfully added from to your part list.
---