SIZE MATTERS: NEW High Flow Priority Compensator
Product Announcement from HydraForce, Inc.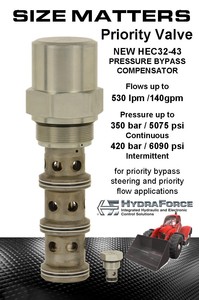 The NEW HEC32-43 PRIORITY, PRESSURE BYPASS COMPENSATOR VALVE
A screw-in, cartridge-style, priority-on-demand, pressure compensator with dynamic load sense intended to provide priority flow in the required amount, while allowing excess flow to be used for auxiliary functions.
This valve has a flow ratings of 530 lpm /140gpm and Pressure up to 350 bar / 5075 psi Continuous or 420 bar / 6090 psi Intermittent.
This valve is intended to be used as a priority bypass compensator valve for steering and priority flow applications that require high flow.
Commonly used in large wheel loaders and dynamic steering systems.
Valve Operation:
With inlet flow at port 3, the HEC32-43 will deliver required priority flow at port 4, based on the size of the external orifice, regardless of load pressure. Excess flow exits, or is bypassed, at port 2. Port 1 is the load sense port. All ports may be fully pressurized.
You have successfully added from to your part list.
---