Valves with Integral Position Sensing
Product Announcement from HydraForce, Inc.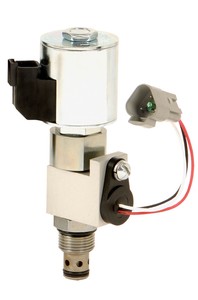 HydraForce has released valves with an integral sensing option capable of transmitting an on or off signal. These valves are designed with parts commonality in mind which allows these sensing options to be easily applied to numerous valves, and keeps the sensing option cost-effective. This new sensing solution was designed for interchangeable use with any existing HydraForce cartridge valve, is compatible with manual override options, and uses an industry standard cavity.
Smart hydraulic valves are a sensible choice for the following applications where position-sensing is important:
¨ Lifting
¨ Lowering
¨ Machine State (On, Off)
¨ Steering Modes
¨ Safety Modes with Manual Override
The innovative sensing option design consists of assembling a common solenoid valve pole tube and hydraulic valve assembly on the opposite ends of a coupling tube, which contains an elongated plunger. The new coupling tube, sensor and sensor housing are designed such that they are usable in valves of different types and sizes ranging from 10 to 16 sizes. These new components are connected to Hall Effect sensor element which monitors and transmits the appropriate voltage signal when the valve is actuated or in the neutral position. The sensing element chosen was a Hall Effect sensor which is known for its proven reliability in the field.
An additional benefit of the coupling tube containing the sensing element is that this enables the use of a manual override. This is an option that had previously not been available in an integral sensing valve. Poppet style valves incorporate a special poppet with elongated hydraulic overlap during transition; this ensures faulty detection does not occur in the case of leakage. Both Deutsch and M-12 connection options are available for connecting the sensing element into your wiring harness, allowing for easy system integration in both industrial and mobile applications.
Among the many uses for this sensing solution are monitoring of lifting and lowering functions, machine state, multiple steering modes, and to enable dual redundancy operation of hydraulic press and other industrial equipment.
Features
· Cost Effective.
· CE Rater for gloabl application
· Ease of sensor replacement.
· Hall Effect sensing technology.
· Industry common cavity.
· Poppet-style construction.
· Manual-override options available.
· Optional waterproof E-Coils rated up to IP69K.
· Hardened seat for long life and low leakage.
· 5-year limited warranty. See full warranty statement in the catalog or website.
· Tested to 1 million cycles at max. rated flow and pressure.
Benefits
· Our common parts approach assures that our sensor option is cost effective.
· Our Field Serviceable sensor eliminates exposure to internal componants.
· Field proven technology for durability and accuracy throughout the life of the machine.
· Easy manifold machining using standard tooling and set-up configurations.
· For use in load-holding applications.
· Our unique design is the only integral sensing option compatible with a manual override in the cartridge valve market today.
· Reliability in the harshest, most severe operating conditions.
· Reliable operation in mobile machinery application conditions.
· Confidence, with the backing of the industry's leading manufacturer of hydraulic cartridge valves.
· Long life without wear or decreased performance over time.
These sensing options were designed with manufacturers laboring to meet the following specifications; 2006/42/EC: Machinery CE Marking, EN693:2001 Machine Tools, Safety Hydraulic Presses, EN12622: Safety of Machine Tools, Hydraulic Press Brakes, ISO13849: Safety of machinery -- Safety-related parts of control systems (part of the EN15000 spec). The items we supply are components and do not have a complete function of their own, and are to be fitted by our customers to their products, in accordance with the EC, EN, or ISO Directives. We have tested and passed all EMI and RFI and EMC tests which are intended to give assurance that the products supplied by us are, in isolation, capable of passing EMC tests required to CE rate the sensor.
However, it must be emphasized that when components and assemblies are fitted with their respective control equipment and wiring, the Electromagnetic Emission Signature as a whole will potentially be significantly changed and must therefore be subject to the customers own EMC tests and overall safety assessments in accordance with the relevant directive(s).
Solenoid Valves with Integral Position Sensing Now Available:
SV10-P20A
SV10-P22A
SV10-P23A
SV12-P23A
Solenoid Valves with Integral Position Sensing in Development:
SV10-P21A
SV10-P24A
SV10-P25A
SV10-P28A
SV10-P29A
SV10-P31A
SV10-P33A
SV10-P40A
SV10-P41A
SV10-P43A
SV10-P44A
SV10-P45A
SV12-P20A
SV12-P21A
SV12-P22A
SV12-P28A
SV12-P29A
SV38-P20A
SV38-P21A
SV38-P22A
SV38-P23A
SV58-P20A
For accurate dimensions of all sensing valve options, please see the sensor valve option page: www.hydraforce.com/Electro/Sensor_Valves/3-010-1_Sensor_Options.htm
---
Disclaimer: Nothing in this document constitutes an implied warranty of merchantability or of fitness for a particular purpose. The information contained in this document is provided for technical illustration purposes only and may not be used as a statement of suitability for use in any particular application. Each application is unique and prospective purchasers should conduct their own tests and studies to determine the fitness of HydraForce's products for their particular purposes and specific applications.
You have successfully added from to your part list.
---